Site Assistant II - Tanner Project
Company: Mid-Willamette Valley Community Action Agency
Location: Salem
Posted on: June 6, 2021
Job Description: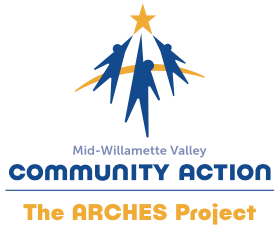 The Site Assistant II will support residents with everyday living, which may include assistance with laundry, cleaning, and navigating various resources, depending on resident needs. This position is located at the Tanner Project, a transitional program that provides safe and stable housing to Veterans experiencing chronic homelessness.
This position will also perform clerical duties such as data collection and data entry, and sorting donations and shipments. The Site Assistant II will coordinate the weekly house meal with residents and will be responsible for tracking inventory, ordering food, coordinating food donations and picking up food from the Oregon Food Share.
MINIMUM QUALIFICATIONS The requirements listed below are representative of the knowledge, skill, and/or ability required.
EDUCATION and/or EXPERIENCE
High School diploma or General Education Degree (GED); 1 year of case management or social service experience; and/or equivalent combination of education and experience.
CERTIFICATES, LICENSES & REGISTRATION
Valid driver license and insured vehicle available for use on the job. Satisfactory drive record for previous three years.
Candidate must pass a comprehensive MWVCAA background screening prior to employment.
Food Handler's Card required, or ability to obtain within 30 days of hire.
PHYSICAL DEMANDS
May occasionally require driving motor vehicle to another site or location.
Requires the ability to communicate with others and respond to potential emergencies.
Requires frequent personal mobility between areas of the shelter and/or sites.
Regularly lift and/or move 10 pounds and occasionally lift and/or move up to 50 pounds.
Manual dexterity for handling personal items, food, clothing, sacks, carts and use of computers and written in-take processing.
Use of kitchen equipment including, but not limited to range, oven, steamer, dishwasher, and various kitchen utensils.
WORK ENVIRONMENT
Close quarters, often with a client population experiencing homelessness, substance use disorders, and/or severe and persistent mental illness, and/or unpredictable behavior.
Indoor work environment with frequent interruptions and demands.
Occasional urgent situations requiring law enforcement involvement and/or paramedic professionals.
Potential exposure to trash and potential occasional exposure to bodily fluids and malodorous air. PPE, face coverings may be required.
*COVID-19 Alert: This position includes performing essential services during the COVID-19 pandemic and potential exposure to others who may be infected with the virus. I understand that if I am feeling unwell or have knowledge that I have had contact with an individual with a positive COVID-19 test, I will report it to my supervisor and HR-COVID@mwvcaa.org and that I must use available PPE and practice social distancing whenever possible according to agency policies.
MWVCAA is committed to promoting and achieving diversity, equity and inclusion with employees and with those we serve. The agency strives to be an employer of choice with a vision for all people to be respected for their infinite worth, and supported to envision and reach a positive future.
MWVCAA is proud to be an Equal Opportunity Employer. We do not discriminate based upon race, religion, color, national origin, sex, sexual orientation, gender expression, age, veterans, and people with disabilities or any other protected category. We welcome all people to join us in achieving our Mission. If you require any assistance in the application process, or reasonable accommodations to perform the essential duties of the position, please notify a member of our team at (503) 585-6232.
Job Listing #2021010
Job Posted by ApplicantPro
Keywords: Mid-Willamette Valley Community Action Agency, Salem , Site Assistant II - Tanner Project, Other , Salem, Oregon
Didn't find what you're looking for? Search again!